Hewlett Packard HP C4822A (HP 80) Printhead for Magenta Inkjet Cartridges and Printhead Cleaner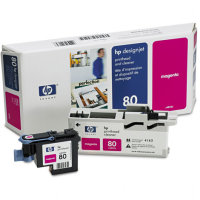 Please call for availability
This product is not in stock, but we may be able to fulfill your order. Please contact us by phone to verify availability and place an order.
Would you like to be notified when this product becomes available?
Click here
We will contact you when this product is available or we are able to special order it.
Color: Magenta
This is not an Ink Cartridge, but a Printhead. Replaceable Printheads are the hardware that holds the ink cartridges. If you need the actual cartridges containing ink, please scroll down to view compatible supplies.
More buying options are available for this item
Scroll down to view all 22 related products and buying options
Item description
Hewlett Packard HP C4822A (HP 80) Printhead for Magenta Inkjet Cartridges and Printhead Cleaner for the HP DesignJet 1000 Inkjet Printer. It is engineered to work with HP C4822A inkjet cartridges as part of a modular inkjet ink system that delivers fast printing automatically. The printhead cleaner maintains the life and performance of the inkjet printhead.
Specifications
Manufacturer
Hewlett Packard HP
Category
Inkjet Cartridges
Related Products
Show all related products and capacity options (4 more)
Buying Options
Show all buying options (6 more)
Compatible printers

HP DesignJet 1050c

HP DesignJet 1050c Plus

HP DesignJet 1055c

HP DesignJet 1055cm

HP DesignJet 1055cm Plus