...and savings of 30% and more compared to OEM Brands.
TAA Compliant Premium North American Built Printer Supplies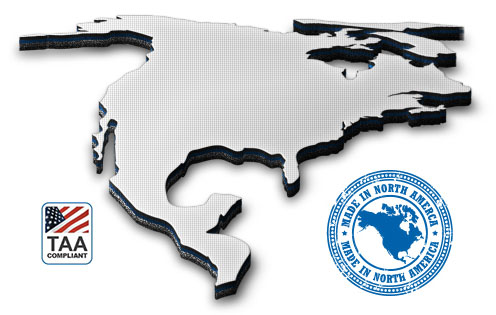 Premium North American built printer supplies are manufactured to OEM testing standards and meet the requirements of a TAA Compliant product, which qualify for purchase within Government contracts.
True, the price is a bit higher than the foreign made cartridges, but you can be 100% assured no intellectual property has been infringed and the manufacturer is in total TAA Compliance.
The tested quality by independent laboratories confirms the OEM performance standards that these North American products equal.
When you see the TAA Compliant symbol be assured, you are purchasing the very best products available for your printing devices.
TAA Compliant products will still save you about 30% compared to the cost of OEM Manufacturer brand and your purchase will keep our own men and women working in the remanufacturing industry.
When one of our products is labeled as TAA compliant, it indicates that the product follows the guidelines put forth in the Trade Agreements Act (19 U.S.C. & 2501-2581), which is intended to promote products either made in the USA or made in free-trade friendly countries.